ADX est un groupe de speed metal français qui s'est formé à Nanteuil-le-Haudouin dans l'Oise en mars 1981.
Influencé par Metallica et Iron Maiden, la presse musicale ignorera complétement ce groupe au fort potentiel.
Pourtant les albums du groupe sont de belles réussites créatives jusqu'à l'album "weird visions" où le groupe
ne rencontre pas le succès attendu.
Le problème (selon moi) c'est que les albums du groupe ont été produit en France, et qu'à l'époque (1980-1990)
AUCUN producteur Français n'était capable de capté le son honnêtement d'un groupe de Heavy Metal pour le
restitué sur disque.
Des dizaines d'exemples ? (Demon Eyes, Strattson, Voie De Fait...)
Un producteur Anglais (même de variété) aurait pu rendre la magie des compositions plus efficace.
Par la suite, en France comme à l'étranger, la distribution et les ventes sont insuffisantes.
Malheureusement les déconvenues s'enchaînent et en 1992, la formation se retrouve sans management
ni maison de disques.
Ils décident alors de se séparer et de marquer une pause.
Après 2 retours assez confidentiel (1997 / 2001) et (2006 / 2016) et plusieurs changement de personnels,
le groupe malgré son obstination à réussir en France, reste toujours ignoré des médias mais pas des fans
de la première heure (dont je fais partie).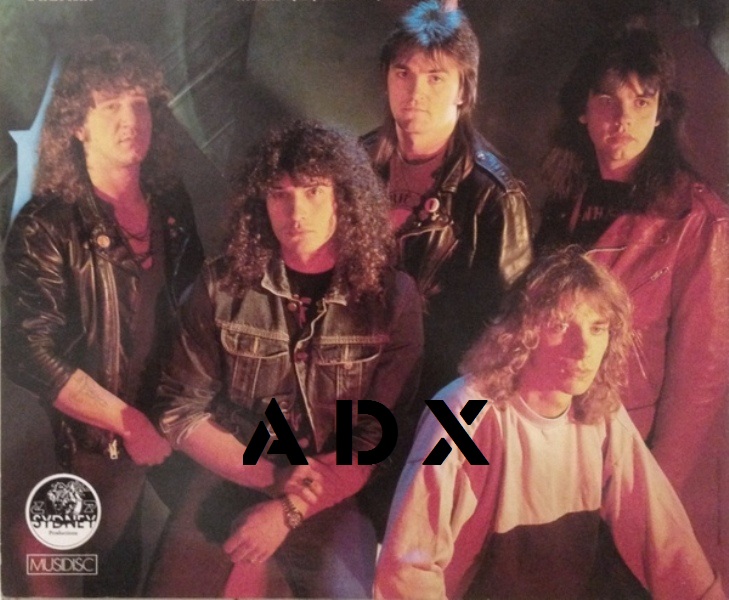 Ses membres d'origines étaient :
Philippe Grélaud...chant (Phil)
Hervé Tasson...guitare (Marquis)
Pascal Colobert...guitare (Betov)
Frédéric Deuchilly...basse (Deuch)
Didier Bouchard...batterie (Dog)
DISCOGRAPHY:
1985...Exécution
1986...La terreur
1987...Suprématie
1988...Exécution publique (live album)
1991...Weird visions (the only album with singing in English)
1998...Résurrection
2001...VIII sentence (live album)
2008...Division blindée
2010...Terreurs
2011...Immortel
2014...Ultimatum
2016...Non serviam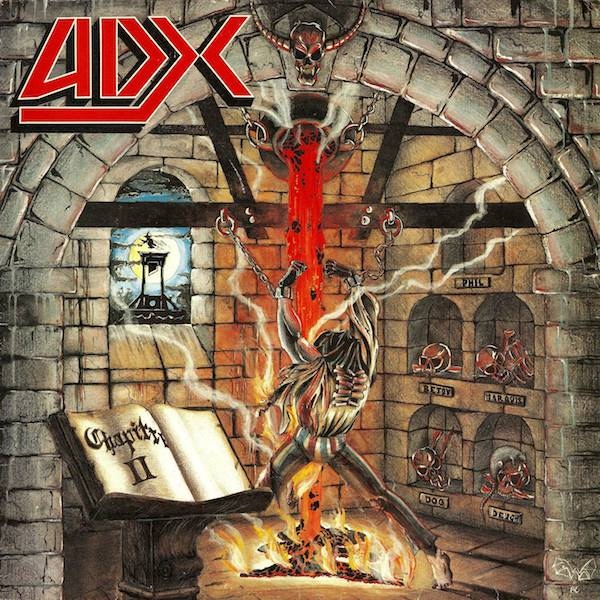 1986 - La terreur
ADX (acier doux = in English "mild steel" metallurgical abbreviation)
is a french Heavy Metal band influenced by Metallica (kill 'em all period) and Iron Maiden (peace of mind period).
The band was formed in March 1981 to Nanteuil-le-Haudouin (60 km north of Paris).
After several tours, several changes of member and a French music press ignoring this group with great potential,
their concerts are still valid and are still good.
In the 80s, the lack of competent producer of Heavy Metal in France, not far managed to sound quality of ADX.
Whatever happens, ADX remains one of my favorite bands of French Heavy Metal since the mid-80s,
I listened to in high school.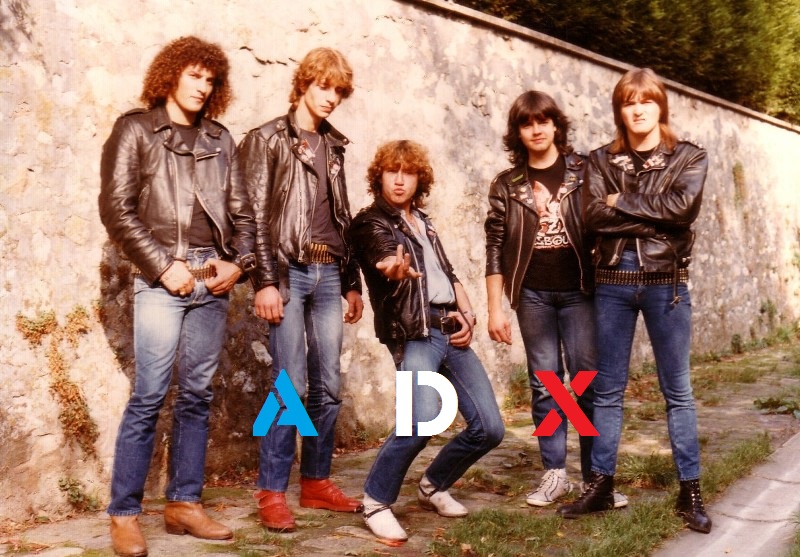 The texts of the words are inspired by the history of France and classical literature.
The themes are: the French Revolution and the Old Regime, the Marquis de Sade,
Dark Forest and the Arthurian legend, The Hunchback of Notre-Dame, and Victor Hugo.
The Hunchback of Notre-Dame (French: Notre-Dame de Paris) is a French Romantic novel by Victor Hugo published in 1831.
The title refers to the Notre Dame Cathedral in Paris, on which the story is centered, and the true protagonist of the story Esméralda.
English translator Frederic Shoberl named the novel "The Hunchback of Notre Dame" in 1833 because at the time,
Romantic novels were more popular than Romance novels in England.
The story is set in Paris, France in the Late Middle Ages, during the reign of Louis XI (1461–1483).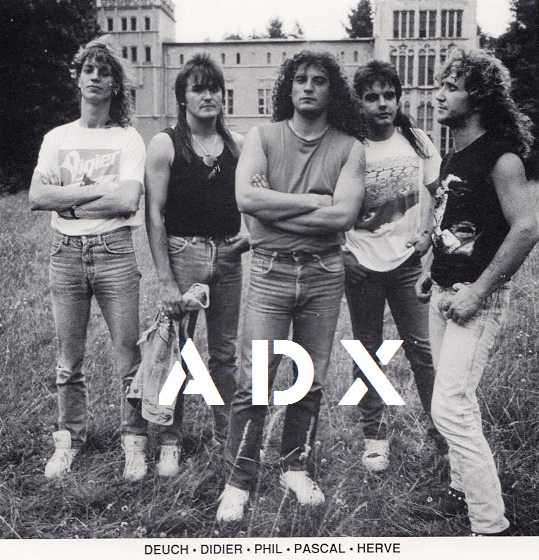 Original members were :
(parentheses nicknames)
Philippe Grélaud...Singer (Phil)
Hervé Tasson...Lead / Rhythm guitar (Marquis)
Pascal Colobert...Lead / Rhythm guitar(Betov)
Frédéric Deuchilly...Bass (Deuch)
Didier Bouchard...Drums (Dog)
Last edited by The ripper on Wed 24 Aug - 14:09; edited 1 time in total

---
Permissions in this forum:
You
cannot
reply to topics in this forum