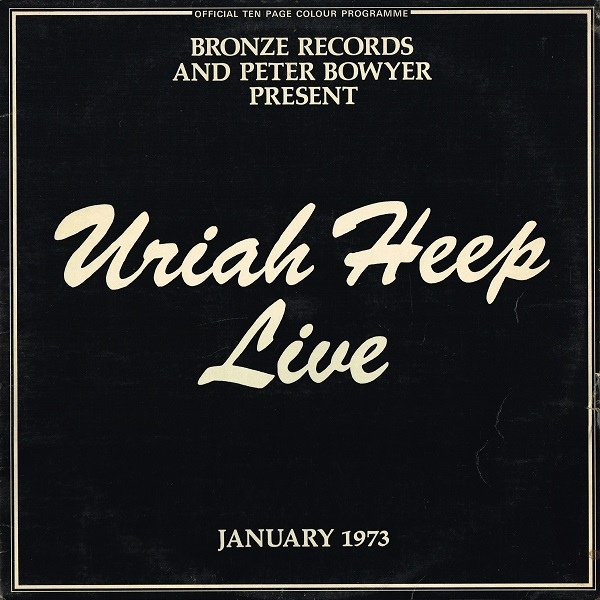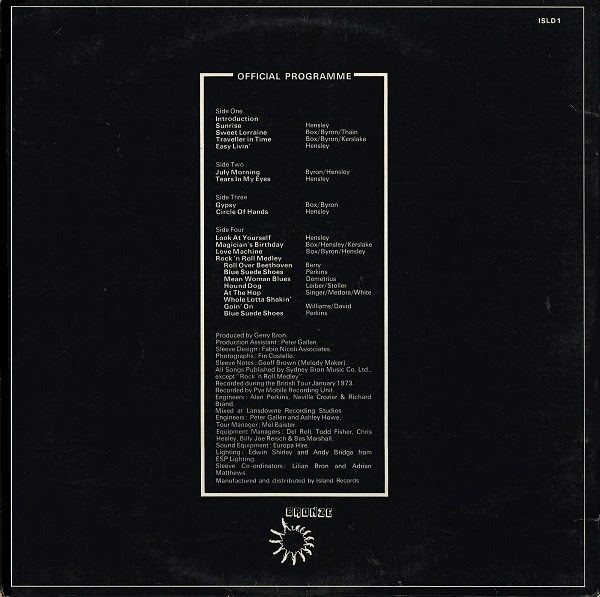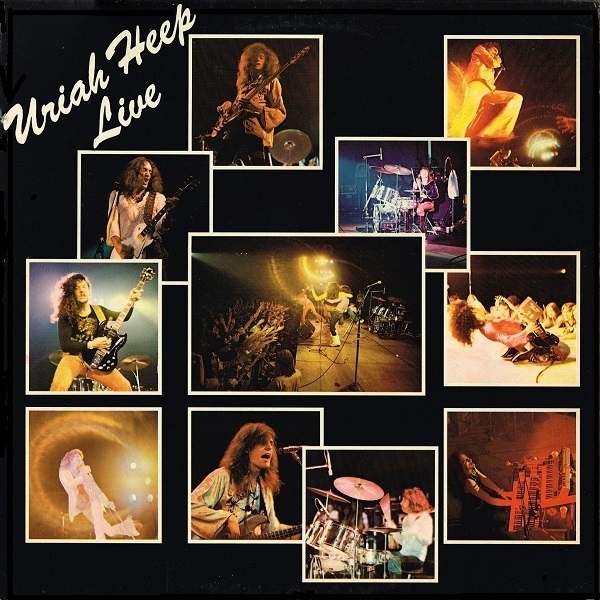 Released 13 may 1973
From all the early seventies live double hard rock albums, most people would reckon that Deep Purple's 'Made in Japan'
comes out top of the heap.
But to this old dog Uriah Heep's live album just pips it at the post. Both were released by their record companies within
six months of each other; Deep Purple's effort coming in December of 1972, while Uriah Heep's came in May of the following year.
Both came with the same mass marketing including the special price tag of two LPs for the equivalent of one
Whereas the Uriah Heep Live came in with a total of twelve songs, including three encore numbers.
Sadly though, to make space for these encore numbers, four concert numbers played on that night in Birmingham,
England, had to be cut and have since been lost.
We shall never hear the whole concert with `Lady In Black', `Bird Of Prey', `The Wizard', and `Come Away Melinda'
in their rightful place in the set.
The selection that we did get had songs from four of Uriah Heep's five albums to date.
Nothing from second album, `Salisbury', made it to the live album.
Opening with a brace from latest album, `the Magician's Birthday', `Sunrise' and `Sweet Lorraine',
where the rhythm section of Kerslake and Thain show that after a year together in the band they have really jelled,
propelling Heep into another realm.
Thain, originally from New Zealand, was one of the new breed of bass guitarists who, as well as putting in plenty of bottom end,
also used his axe as a lead instrument, never happy to be submerged in the mix.
Lee Kerslake, one of the nicest men to have stepped onto a rock 'n' roll stage, did not so much use his arms and wrists to beat the skins,
but seemed to use his whole body and every inch of energy in it to put the power into Heep.
The band then continued with two songs from `The Demons and Wizards', `Traveler In Time', and `Easy Livin'.
It seems strange now to hear `Easy Livin' so early in the set, as today it is usually kept back for a final blast
to bring the Heep's concert to a dramatic rockin' climax.
`July Morning' from Heep's third album `Look At Yourself' is the first epic hauled out by the band, showing off all the band's assets,
specially the talents of David Byron, who in 1973 was at the peak of his powers,
both as an entertainer and a vocalist with a quite extraordinary range.
Add this to the five-part harmonies the rest of the band was able to put in, and `July Morning' gets the stamp of a rock classic.
For a change of style, but certainly not pace, Ken Hensley comes from behind his bank of keyboards to play a slide guitar duel
with lead guitarist Mick Box on `Look at Yourself' and `Tears in My Eyes', and quite a battle it is, too.
Then it's back behind the keyboards for Ken Hensley for his keyboard solo number `Gypsy',
which comes from Uriah Heep's first album 'Ever So 'Eavy Ever So 'Umble'.
Clocking in at 14 minutes, there is plenty of space for Ken Hensley to go through his antics using all the organs and Moog's at his disposal.
Then there is time for one more epic in the `Demons and Wizards' song, `Circle of Hands'.
It starts off with some lovely interplay between Hensley's piano and Byron's vocals before the band gradually builds the song
to a rousing conclusion.
Then `Look at Yourself' charges out as Mick Box brings the house down with a crushing guitar solo.
That leaves only encore time, a snippet of `The Magician's Birthday' before the volume is cranked to 11
for a run through of `Love Machine', which just rocks.
Then, as was tradition in those days, something for band and audience to really let their hair down to - the Rock 'n' Roll Medley.
By this time it is difficult to tell who is having a better time, the band or the audience.
So, for best heavy rock live album of the early seventies, Mott gives it to Uriah Heep by the shortest of noses.
Deep Purple definitely came an honorable second though.
Last edited by The ripper on Mon 18 Sep - 15:03; edited 2 times in total


Similar topics
---
Permissions in this forum:
You
can
reply to topics in this forum