C'est pas d'aujourd'hui que les ligues chrétiennes puritaines Américaines sèment le trouble avec leurs morales de coincer du "C.."
à l'encontre des groupes "musicaux" et ceci depuis l'arrivée du Blues (autant dire la musique moderne populaire).
Pour en arrivée enfin au milieu des années 80 où les groupes de Hard Glam US sont la cible privilégiée de ces notables (très souvent des politiciens)
en manque de pouvoir et de prétexte à leurs élections comme maire de leur ville ou candidat potentiel à la maison blanche (l'espoir fait vivre).
Ozzy se justifiant (Los Angeles 1986)
Si mon homonyme (j'me fais des fleurs) Rob Halford le a su trouver les mots justes pour sa défense,
d'autres artistes ont eues aussi à rendre des comptes devant les tribunaux...
De mémoire Frank Zappa, Dee Snider, Blackie Lawless, Ozzy Osbourne...ont sus par leurs talents d'orateurs nés
s'en sortir humblement devant des juges coriaces et intransigeants.
(Merci messieurs ! vous nous avez sauver l'honneur et avez prouvez que les hard rockers ne sont pas tous des illettrés sans cervelles).
(Dee dit au début qu'il est un bon chrétien, marié et père de famille et qu'il ne faut pas prendre
au sérieux les paroles des chansons, que tout est très imagé, théâtrale et inoffensif.
Que les jeunes adolescents qui sont frustrés et en manque de repères trouvent un défouloir et des solutions
avec les groupes de hard rock, qu'ils croient en ce qu'ils voient et entendent sans voir le mal pour autant et
se sentent bien en venant et repartant après les concerts....)
Je sais qu'à cette époque, des groupes ont été montrés du doigt et interdit de diffusion radio (celles-ci
appartenant aux comités chrétiens) à cause de leurs albums, des exemples ?......
AC / DC...highway to hell
Iron Maiden...the number of the beast
Ozzy Osbourne...blizzard of ozz
Quiet Riot...metal health
W.A.S.P...1st album
Motley Crue...shout at the devil
ainsi que Twisted Sister, Venom, Kiss......
Mêmes leurs albums suivants seront disséqués (pochette, paroles...) chansons écoutés à l'endroit à
l'envers par les censeurs pour créer des polémiques.
Finalement, ce sera l'autocollant (sticker) ci-dessous qui sera obligatoire sur les pochettes
de certains disques dit licencieux d'importations US d'où est parti
toute cette polémique (ou mascarade si vous préférez).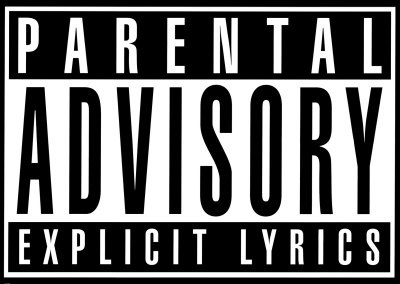 L'effet de puritanisme tant désirer ne se fera pas....bien au contraire car les jeunes achèteront
majoritairement ces disques à l'autocollant reconnaissable pour pouvoir entendre (en plus de la
bonne musique) des textes sexistes, vulgaires et sataniques).
ÉPILOGUE :
PRMC (ligue puritaine US contre le sexe, violence, drogue...) créé en 1984.
Les stickers furent mis pendant 2 ans environ, pour finir aux oubliettes.
Ce phénomène ne concerna que les pays Anglophones uniquement car 80 % des headbangers Européens de l'époque
ne comprenaient pas les paroles (qui n'étaient que rarement dans les vinyles).
Les ventes de ces disques en Europe ne furent pas plus conséquentes.
Last edited by The ripper on Sun 17 Jul - 22:40; edited 1 time in total

---
Permissions in this forum:
You
can
reply to topics in this forum