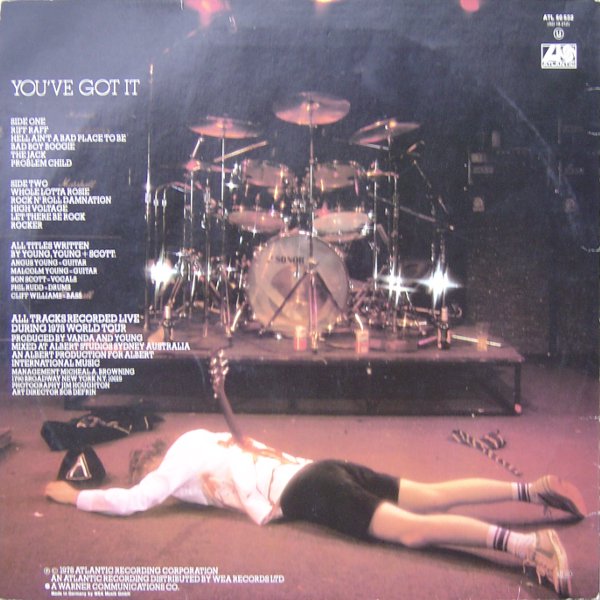 Retour d'AC/DC au printemps 78, en Europe pour le "powerage UK tour".
Dès son 4ème show, il enregistre dans sa terre natale un album live.
Et c'est à l'apollo de Glasgow qu'il immortalise son méfait.
Dès 19 h 30, les "british lions" se mettent en scène pour assumer la 1ère partie.
Le public d'une moyenne d'âge de 15 - 20 ans attendent leurs idoles locaux. (Angus et Malcolm sont nés à Glasgow).
Étonnant de démarrer par...
"riff raff", alors que les boys nous avaient habitués à "live wire" !
"hell ain't a bad place to be" - Un délice, un chorus au son clair et distinct.
"bad boy boogie" - Version étirée, normal Angus fait son strip tease.
"the jack" - Bon dit en intro "see if you recognize this one" puis chante un texte
différent de celui de la version de l'album "high voltage" (plus chaud)
"problem child" - Sans surprise
"whole lotta rosie" - Du jamais vu le guitariste écolier acclamé en héros par des
Angus ! Angus ! Angus ! une foule en délire pour une version non dénuée de sens.
"rock'n'roll damnation" - Bon clame au début "it's hot in here".
Titre qui surpasse la version studio par son solo inédit en final, court mais plaisant à l'écoute.
"high voltage" - Rock'n'roll quand tu nous tiens...
<< let's get a chant
aren't you gonna chant ?
high, high, high, high
c'mon »
"let there be rock" - Très bonne interprétation du morceau qui justifie à la fin
(comme si cela était encore nécessaire) son amour pour les pionniers du ROCK 'N' ROLL.
Super Ang' se surpasse par son style personnel de l'impro' 30 ans plus tard,
toujours aussi idolâtré par sa démesure.
"rocker" - Version à la boogie rock (différente de l'original), mais à la tuerie final
où on peut penser que Phil Rudd explose ses cymbales, tant y les martèles violemment.
George Young et son acolyte Harry Vanda souhaitaient un résultat sans faille et ce ne fût pas tout à fait le cas.
(Leurs connaissances en production a aussi ses limites).
Ne voulant pas d'un double live (trop cher à fabriquer, à vendre...) et limité sur un simple 33 tours
(durée 45 m maximum pour les 2 faces), il a fallu choisir.
Finalement "dog eat dog", "fling thing" et "gimme a bullet" furent évincé.
"dog eat dog" apparait aujourd'hui sur un DVD officiel.
"fling thing" (l'hymne écossais) qui selon George "nous voulions que l'album sois le
plus rock possible...et FLING THING était superflue, elle cassait le rythme".
Pour info, AC/DC joue uniquement ce morceau à Glasgow.
"gimme a bullet" - aucune trace à ce jour.    
Quand à "rocker", n'étant pas satisfait de son interprétation, le groupe le joua une
2ème fois par précaution, après son hymne national.
Possédant le disque "lift off" - référence turtle records TR-31 (1992 australia) qui contient...
riff raff, rock 'n' roll damnation, bad boy boogie, let there be rock, dog eat dog, fling thing, rocker...
Excusez-moi, je veux pas casser le mythe, mais d'un album parfait, un bon travail studio
des producteurs est flagrant au niveau du son et quelques retouches guitares et chant aussi.
La suite prouvera qu'un changement de producteur aura été bénéfique...

---
Permissions in this forum:
You
can
reply to topics in this forum