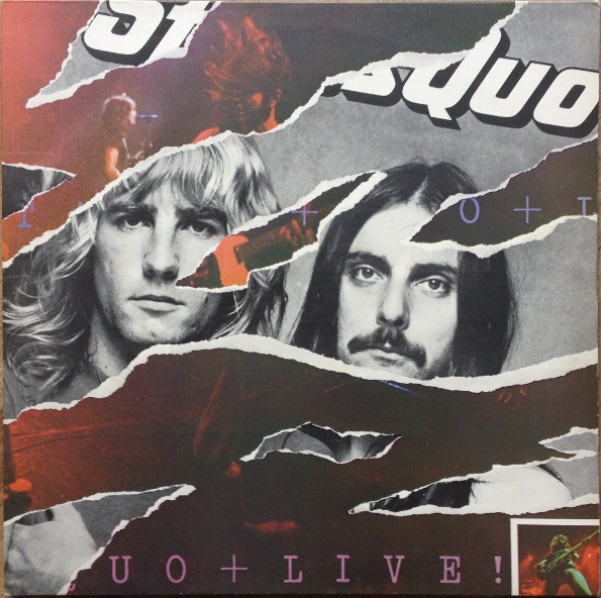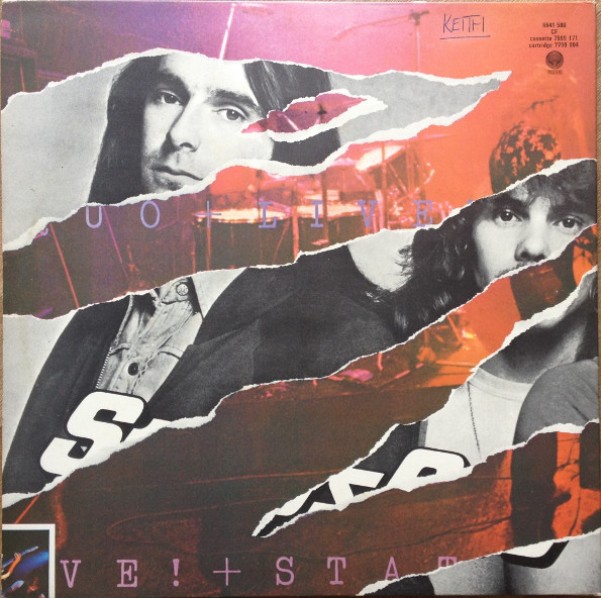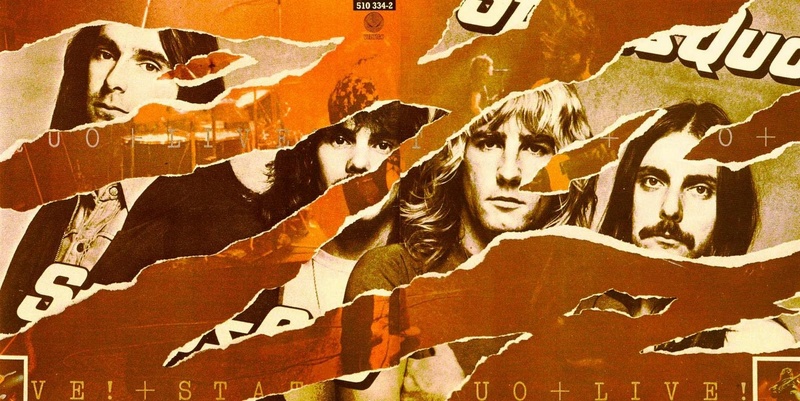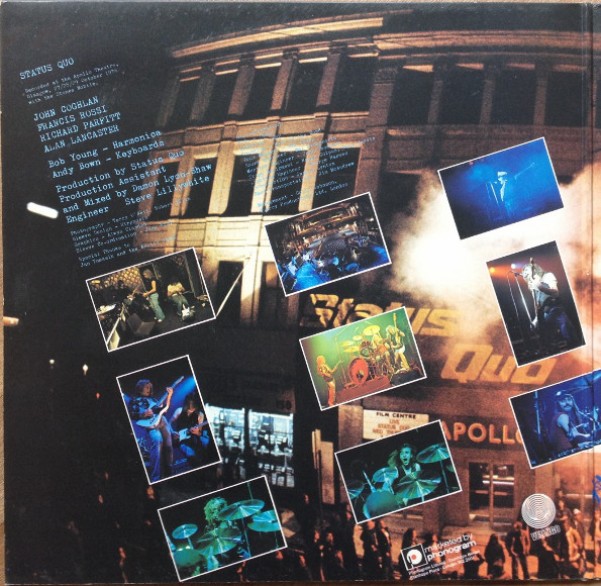 Released 1st march 1977
One of the truly great live albums, by a fantastic live group at its peak.
It's most unfortunate that most of North America never really tuned in to Status Quo, to see why they are SO BIG in Britain,
Europe and the rest of the world.
Released in early 1977, it mostly features tracks from their two best albums, "Hello" and "Quo" from 1973 and 1974 respectively,
although they do dip back to earlier albums like "Piledriver", and even 1970's "Ma Kelly's Greasy Spoon".
Highlights?
Much harder rocking than on the original albums, especially from Roll Over Lay Down through Backwater to Just Take Me
on to 4500 Times!
The finale of Roadhouse Blues followed by the encores of Caroline and Bye Bye Johnny are stunning.
For those only familiar with the late 60's psychedelic sound of Pictures of Matchstick Men,
be prepared to have your socks rocked off!!
Play it LOUD!!
xxxxxxxxxxxxxxxxxxxxxxxxxxxxxxxxxxxxxxxxxxx
Taped over three nights at Scotland's leading live venue, the Glasgow Apollo, these classic 1976 recordings finds Status Quo
at the top of their game.
The band had tentatively moved from psychedelia to hard rock and boogie rock a few years earlier,
and they were touring in support of their latest LP, "Blue for You", so a standart concert would probably have included
more than two songs from that particular album.
But when you make a live album you want it to reflect more than just the sound of your latest album being played on stage, right?
At least that's what the Quo did, and they succeeded, too.
There have been several live albums since this one, and good ones, too, but none of them capture the power of early Quo
quite as well as this one.
"Live" is 83½ minutes of tough, fiery, exciting hard rock from just before Quo went soft in the 80s and became a pop-rock band
rather than a hard rock band.
(Yeah, sorry, but that's what happened, and you know it!)
The 70s was the decade of the double live album, and this one is one of the more succesful ones for sure.
I'm not a huge Quo fan, I'm too young to remember them in their 70s prime, but to me, this is a good as they ever got,
and they're very, very good indeed!
The drums bite, the bass rumbles potently, and the guitars churn out one heavy blooze-n-boogie-riff after another.
And it's all impressively tight, never once does the band sound like they're about to go off the rails or trail off
into meaningless improvisations.
Even on the 14-minute "Roadhouse Blues" and the 16-minute "Forty-Five Hundred Times" they stick together like glue.
On this 2005 CD reissue that I'm listening to, the playing order has been corrected to reflect the original set list,
so disc two opens with "Roll Over Lay Down" and closes with "Bye Bye Johnny", and the original show closer,
"Forty-Five Hundred Times", is now the last track on disc one.
And what a "Roll Over Lay Down" it is!
The lyrics are trite, yes, and the band's singers weren't that great either, but you won't care.
Not when the music is this exhilarating.
And there are plenty of other highlights, of course. "In My Chair" is one of the finest blues-rock numbers the Quo ever did,
a dense, powerful grind, and it is followed by (or juxtaposed by) "Little Lady", a joyous up-tempo romp which then bleeds
into the swaggering riff-rocker "Most of the Time" with its scorching guitar solo.
"Is There a Better Way" is here as well, as is the driving "Don't Waste My Time" and the pure blues "Junior's Wailing",
and you can just imagine the crowd going wild to this thundering rendition of "Caroline".
Nowhere else is the power of the original Status Quo so well captured.
This album rocks like very few others, and whatever else they might have become later on, "Live" showcases the mighty Quo
in all their swaggering, hard-rocking glory.


Similar topics
---
Permissions in this forum:
You
can
reply to topics in this forum