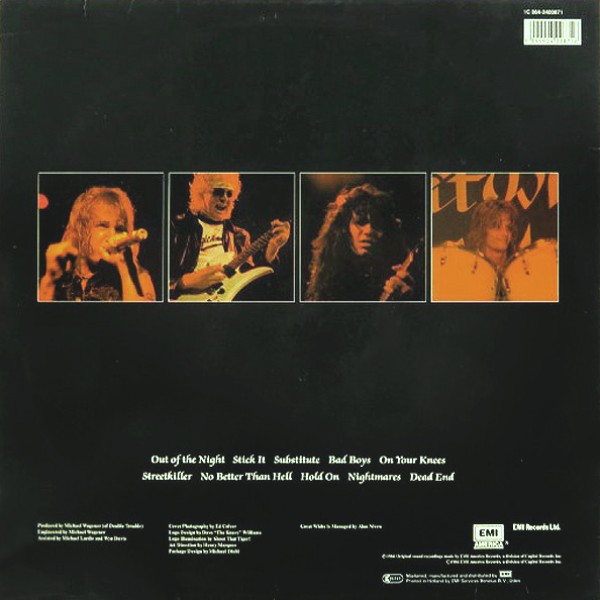 Released 21 march 1984
Like Ratt, Great White debuted with an independently released EP.  
And like Ratt, Great White issued their first full-length album in 1984 on a major label.  
Yet, Great White didn't really become famous until about 1988 or so, and by that time they had really softened their sound.  
If you are not familiar with the Great White LP, you might surprised just how heavy they were in the early days.  
Singer Jack Russell sounded particularly vicious, as he belted it out over the mean n' nasty riffage of guitarist Mark Kendall.  
(Side note: I always found it interesting that Russell and Fastway's Dave King had almost the exact same voice!)  
Highlights on this sweaty banquet include the menacing No Better Than Hell, the melodic Hold On,
the rousing album opener Out Of The Night, and my personal fave, the face-ripping cover of The Who's Substitute.  
Crank it up!
What a pleasant surprise to pull this out of my old record collection, after buying a USB turntable,
and find it in almost mint condition, complete with original shrink wrap and sticker still intact, the original release from 1984.
It's the only Great White album I own, and ever will, and the only one I really cared for.
This album has a different sound than their future releases, it's raw and hard rockin', a little grungy,
and produced by "Double Trouble's" Mark Wegener.
They are sort of a "Ratt" type of 80's hair band, in that they have classic hard rock roots and don't wear make-up (just bad hair).
Their future releases became a bit too "Warrant-esque" for me, but I always liked listening to this album
repeatedly in high school back in the mid-80's.
In fact this album has more in common with 70's hard rock than glam metal, it's not going to please the cheese whiz girls
and big hair fans of annoying bands such as post-Devil Motley Crue, Warrant, Poison, Winger etc...
Highlights are The Who's "Substitute" cover (worth it for that song alone), "Out Of The Night," "Stick It," "Hold On" and "Streetkiller."
The rest of the tunes are all solid and fit well into the rest of the album (very consistent).
It's a little raw and under-produced, but that gives the album it's charm.
It's harder and more edgy than their semi-bubble gum releases to come afterwards,
and just an underappreciated 80's pop/hair metal album all-around.
Definitely check this one out.
Great White is the kind of band that has various sounds as they became older,but this is the cd by them that rocks.
They capture the 80's metal in it's prime with this album.
Being their first album they had some great talent to show off.
1.Out of the night(10/10)This is a great song, the chorus is catchy.Good guitar work too.
2.Stick It(8/10)A good standard track.
3.Substitute(7/10)I love the guitar work on this one!I remember seeing the music video for, what a guitarist!
4.Bad Boys(8/10)Suberb track,Jack's vocals shine and the guitar licks smoke!
5.On your knees(7/10)Another decent track.
6.Streetkiller(10/10)3rd best song on this cd.Vocals and guitar work are stunning and something fierce.A concert favorite!
7.No better than hell(7/10)Lyrics sound like a Kiss song a bit.Not bad!
8.Hold On(10/10)A great song with a more mellow feel, but still rocks.Good for blasting loud in the car!
9.Nightmares(10/10)Best song on the cd.The guitar intro is very cool and vocals are perfect.I just love the guitar sound though!
10.Dead End(6/10)Least favorite song on the cd.Not Bad if you liked the previous songs.
To put it plain and simple thre is only 2 more good Great White cd's.Shot in the Dark and Once Bitten is the cut off point for this band.
All three of these albums are great, but this and Shot in the Dark are the true GREAT WHITE!


Similar topics
---
Permissions in this forum:
You
can
reply to topics in this forum