Sortilège est un groupe Parisien de heavy metal dont le style se situe entre Judas Priest et Iron Maiden.

Le groupe, alors nommé Blood Wave, se forme en 1980 avec Jean-Philippe Dumont à la batterie ainsi que Stéphane Dumont
et Didier Demajean aux guitares.
En 1981 le groupe se rebaptise Sortilège et recrute Christian Augustin au chant et Daniel Lapp à la basse.

La qualité de leur répertoire et leurs nombreux concerts en France leur permet de se faire engager
pour assurer les premières parties du groupe de heavy metal "Def Leppard" au Bataclan de Paris le 8 mars 1983.
Sortilège y fera une prestation très remarquée.
Pourtant aucun label français ne souhaite miser sur le groupe.
C'est pourquoi Sortilège est obligé d'aller signer chez Rave-On Records, un label hollandais.

Quelques mois plus tard, le groupe enregistre un premier E.P simplement intitulé "Sortilège" qui remporte beaucoup de succès.
Des spécialistes n'hésitent pas à comparer la voix de Christian Augustin à celle de stars du heavy metal de l'époque
comme Rob Halford ou encore Bruce Dickinson.

Fort de ce premier succès, le groupe signe avec la maison de disques française Madrigal.
Quelques semaines plus tard, le groupe part en Allemagne pour enregistrer son premier album : "Métamorphose".
C'est à nouveau un succès surtout en France et en Allemagne.
Le groupe est désormais vu comme la relève française du hard-rock au côté des Satan Jokers, Vulcain et H-Bomb.
Conscient de son succès grandissant, Sortilège décide de partir à la conquête de l'étranger.
Ils décident de ré-enregistrer en anglais le chant de l'album Métamorphose.
Les ventes seront médiocres sauf au Japon où les nombreux fans de hard-rock sont ravis.

Grâce au succès de "Métamorphose", le groupe se produit dans de nombreux festivals internationaux et devient très populaire
en Allemagne, Hollande, Suisse, Belgique et aussi en France.

En 1986, Sortilège sort son dernier album intitulé Larmes de Héros.
Tout comme l'album précédent, il fut enregistré en Allemagne et une version anglaise sortie en même temps destinée cette fois-ci
aux marchés allemand et hollandais.
En fait la version anglaise ne se vendit pas du tout, le public allemand préférant la version française !
Certains le considèrent même comme le plus grand album de heavy metal français.
Pourtant cet album fut beaucoup moins agressif que les précédents mais plus travaillé et plus mélodique.
Malheureusement pour le groupe, leur travail ne fut pas récompensé car le public de l'époque, déçu de cette perte d'agressivité,
n'accueillit pas favorablement cet album et les ventes ne furent pas très bonnes à l'inverse de ce que prévoyait le groupe.

Considéré par beaucoup comme un groupe culte de la scène française, le groupe n'existe plus depuis 1986.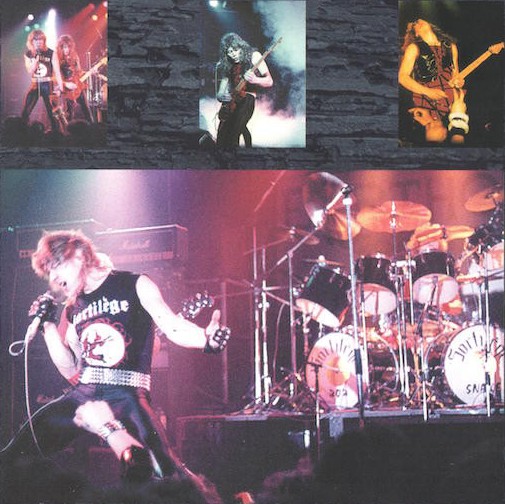 Discography:
1983: Sortilège
1984: Métamorphose
1984: Metamorphosis (English version)
1984: Live Breaking Sound Festival (bootleg)
1986: Larmes de Héros
1986: Hero's Tears (English version)
English version = songs and lyrics in English  

Line-up:
Christian Augustin known as "Zouille" - vocals
Stéphane Dumont known as "L'Anguille" - lead guitar (l'anguille = eel)  

Didier Demajean known as "Dem" - rhythm guitar
Daniel Lapp known as "Lapin" - bass (lapin = rabbit)  

Bob Dumont known as "Snake" - drums (snake = serpent)

Last edited by The ripper on Mon 25 Jul - 21:30; edited 1 time in total
"Sortilège" was a French heavy metal band from Paris, regarded by many as a cult band of the French scene,
the group ceased to exist in 1986.
The band was formed in 1981 with Christian Augustin on vocals, Daniel Lapp on bass, Jean-Philippe (Bob) Dumont on drums,
Stephane Dumont and Didier Demajean on guitars.
Originally, the band's name was "Bloodwave".
The following year, the quality of their repertoire and their concerts in France improved so they were hired as an opening act
for Def Leppard on their 1983 French Tour.
Since none of the French record labels wanted to offer them a recording contract, they signed for the Netherlands label Rave-On Records.
A few months later, the band recorded an EP titled "Sortilège" which was successful.
With this initial success, the band signed to the French record label, Madrigal.
A few weeks later, the band went to Germany to record their first album "Métamorphose".
This was again a success, especially in France and Germany.
With the success of "Métamorphose", the band played in many international festivals and became popular in Germany,
Netherlands, Switzerland, Belgium and France.
Feeling that their French may harm global sales, the band decided to re-record their album "Metamorphose" in English.
However, the English version of the record sold poorly everywhere except in Japan.
In 1986, Sortilège released their last album, "Larmes de Héros".
Like the previous album, it was recorded in Germany.
At the same time they recorded an English version, which again sold badly.
Tired of the lack of public support, and difficulties encountered in relation to record companies, Sortilège decided to split up in 1986.
Chuck Schuldiner, founder of "Death" band, was repeatedly photographed wearing a "Sortilège" T-Shirt,
and once he cited them as his favourite band.


---
Permissions in this forum:
You
cannot
reply to topics in this forum