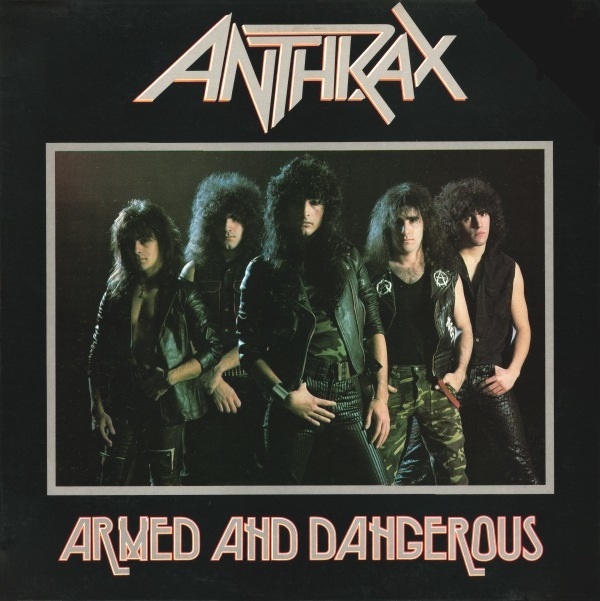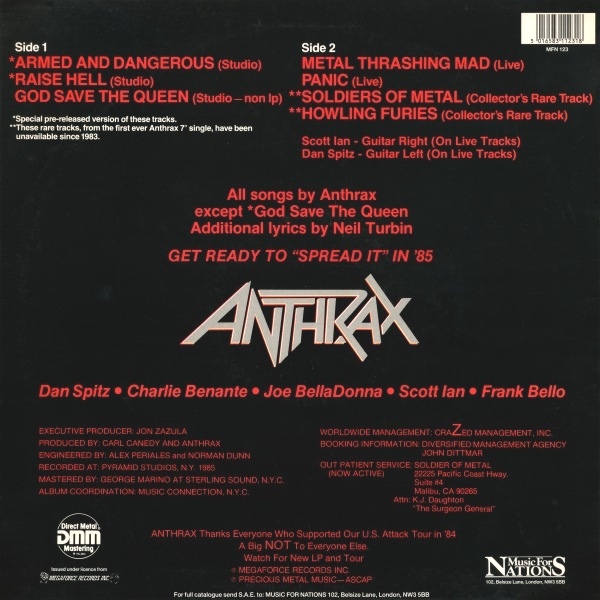 Released 19 february 1985
Armed and Dangerous is the first EP by Anthrax through Megaforce Records.
The band produced the album with Carl Canedy and Jon Zazula acting as executive producer.
This was a five track EP that pre-dated the release of Anthrax's full-length Spreading The Disease LP in 1985.  
The EP showcased two new Anthrax members, Joey Belladonna (vocals) and Frank Bello (bass).  
The title track wound up on Spreading The Disease (and would be one of the best songs on that album).  
Raise Hell was a new song that never ended up on Spreading The Disease (no great loss… it's not a great tune).  
God Save The Queen was a Sex Pistols cover, and kind of a throwaway/novelty.  
Two "live" tracks closed the EP; Metal Thrashing Mad and Panic.  
These were new versions of two tracks from Anthrax's Fistful Of Metal LP (1984).  
The rub being that here the tracks have Belladonna singing instead of Neil Turbin (who sang on Fistful Of Metal).  
I am pretty sure these tracks are NOT live… maybe "live in the studio" at best.  
Later CD re-issues of Armed And Dangerous added two bonus cuts from an old 1983 Anthrax 45-rpm single;
Soldiers Of Metal and Howling Furies (both with Turbin on vocals).

---
Permissions in this forum:
You
can
reply to topics in this forum