Vulcain est un groupe de Hard Rock parisien, formé en 1981 par les frères Puzio :
Daniel (guitare et chant) et Vincent (basse).
Le groupe se compose aussi de Didier Lohezic (guitare) et de Franck Vilatte (batterie).
Le groupe signe chez Ebony Records en 1984 et peut enfin sortir son premier véritable album :
Rock 'n' Roll Secours.
Tout de suite, Vulcain sera comparé à Motörhead, et sera même appelé le « Motörhead français ».
En 1985, Franck Vilatte quitte le groupe et est remplacé par Marc Varez.
Le groupe sort l'EP « la dame de fer » et l'album « Desperados ».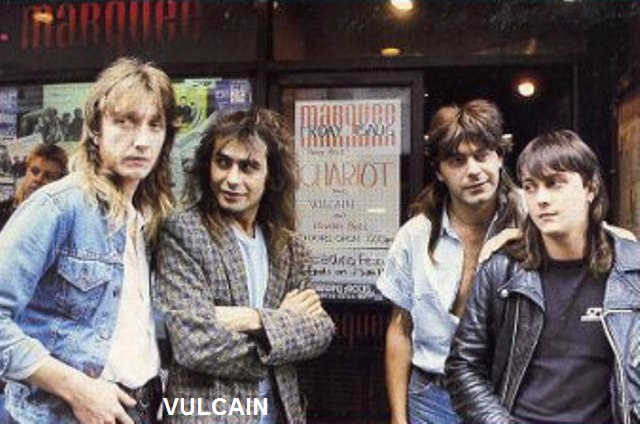 Vulcain acquiert petit à petit une certaine notoriété.
En 1988, un nouveau changement de line-up s'opère : Franck Pilant remplace Didier Lohezic.
Vulcain se remet au travail et prépare en 1989, l'album « Transition ».
Cependant cet album est très différent des précédents et surprend beaucoup de fans.
Après la sortie de cet album, Franck Pilant quitte le groupe.
En 1992, Marcos Arieta rejoint le groupe au poste de second guitariste.
L'album « Big Bang » sort la même année et confirme le changement musical entamé avec « Transition ».
En 1994 Arieta a quitté le groupe et Vulcain, désormais sous forme de trio, enregistre un nouvel album,
éponyme cette fois.
En 1998, il publie son dernier album Stoppe la machine. Le groupe se sépare officiellement la même année.
Fin 2009, sur leur page myspace, un communiqué redonne de l'espoir aux fans en annonçant la reformation de Vulcain.
Sous forme de trio (car Lohezic souffre de problèmes aux doigts qui l'empêchent de jouer),
il recherche des dates pour un grand retour sur scène en 2010.
Le groupe jouera notamment au Hellfest, comme il l'annonce sur sa page Myspace le 12 janvier 2010.
Il jouera également en première partie de Motörhead, sur quelques dates de la tournée 2010.
Le 22 avril 2013 sort leur nouvel album, V8.
Pour fêter les 30 ans de "Rock'n'Roll Secours" sorti en 1984, Vulcain a ré-enregistré cet album avec le line-up actuel.
Il sort sous forme d'un coffret deux CD (la version 1984 et la nouvelle) fin septembre 2014.
Discography:
1984...Rock 'n' roll secours
1985...La dame de fer (EP)
1985...Desperados
1986...Big brothers
1987...Live force (live album)
1989...Transition
1992...Big bang
1994...Vulcain
1996...Atomic live (live album)
1997...Compil action
1998...Stoppe la machine
2011...En revenant (live album recorded in november 2010)
2013...V8
2014...Rock 'n' roll secours (album completely re-recorded)
Vulcain (in english "vulcan") is a hard rock band from Paris, established in 1981, composed of 4 members:
Daniel Puzio (rhythm guitar + singer)
Vincent Puzio (bass + backing vocals)
Didier Lohezic (lead guitar)
Franck Vilatte (drums)
Daniel and Vincent are brothers.
Nicknamed the "French Motörhead", and despite an honorable career in France, the band split in the late 90s.
Under media pressure fans on social networks, the group was back in 2010, but this time as a power trio.
In his 30 year career, the group rerecord, entirely his first album (rock 'n' roll secours), with new arrangements.

---
Permissions in this forum:
You
cannot
reply to topics in this forum