Trust est un groupe de hard rock français créé en 1977 et célèbre au début des années 1980.
Le groupe se forme autour du chanteur Bernard Bonvoisin (alias Bernie) et du guitariste Norbert Krief (alias Nono).
Ils sont les membres fondateurs et irremplaçables, alors que le groupe a plusieurs fois changé de composition.
Trust est le seul groupe français de son style à avoir connu un vrai succès populaire,
surtout dans les années 1979, 1980, 1981 avec de nombreux passages sur les radios périphériques
et même plusieurs invitations à la télévision dans des émissions grand public.
Trust a joué avec des groupes anglo-saxons : AC/DC, Iron Maiden ou Anthrax.
Le groupe est toujours connu en France à travers son titre Antisocial qui passe encore à la radio,
trente ans après sa sortie.
La force et l'originalité du groupe venait de la façon puissante dont le chanteur, Bernard Bonvoisin,
exprimait des paroles largement inspirées par la politique et la critique sociale.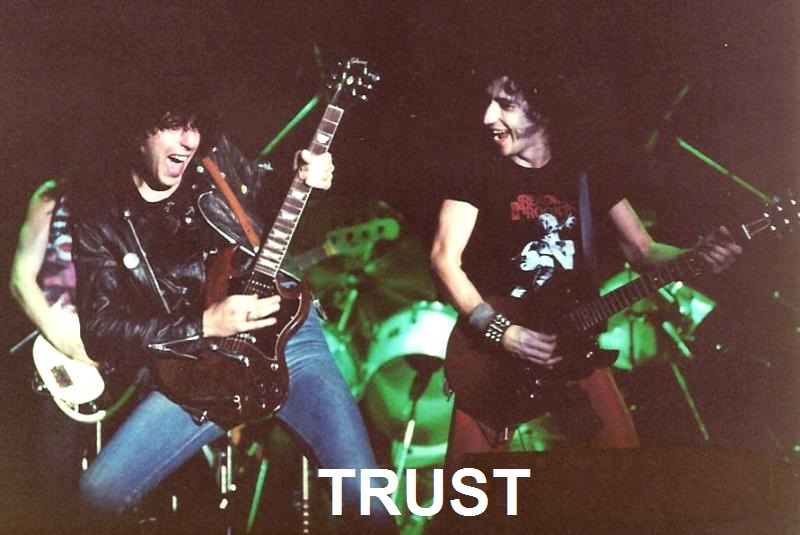 Trust is a French hard Rock band founded in 1977 and popular in Europe in the first half of the 80's.
The band was best known for guitarist Norbert "Nono" Krief's prowess,
for Bernard "Bernie" Bonvoisin's voice reminiscent of AC/DC's Bon Scott and for his lyrics about social and political themes.
Iron Maiden's drummers Nicko McBrain and Clive Burr were part of Trust line-up in the 80s.
The band disbanded in 1984 and reformed in the 2000's for live shows and new recordings.
Trust was founded in 1977 by Bernard "Bernie" Bonvoisin (vocals, lyricist), Norbert "Nono" Krief (guitar, composer),
Raymond "Ray" Manna (bass guitar) and Jean-Émile "Jeannot" Hanela (drums).
Trust rose to fame in 1979 and 1980 with their music, which mixed hard rock influences, acerbic social and political commentary,
anarchist undertones and a renegade attitude à la MC5.
Trust's success was also due to Krief's stature as a French guitar hero and Bonvoisin's sincere and mature lyrics,
as well as his raw energy in live performances.
Their 1980 hit song "Antisocial", taken from the album Répression, criticized the frenetic,
dehumanizing pace of modern life and work in large cities.
Its English adaptation by Anthrax on the 1988 Album State of Euphoria is pretty rough and mild compared to the original lyrics:
"You spend a lifetime working to pay for your own tombstone, You hide your face behind the newspaper,
You walk like a robot in the subway corridors, Nobody cares about your presence, It's up to you to make the first step".
Trust were helped on English lyrics for the Répression album by Jimmy Pursey of British punk band Sham 69,
who may have helped translate the songs' aggressive political messages.
Songs such as "Le Mitard" (1980) attacked what Trust claimed was an excessively repressive handling of juvenile delinquency,
featuring texts from public enemy number one Jacques Mesrine.
Other major political songs includes "Darquier" (1980) commenting on notorious Nazi Germany collaborator Louis Darquier de Pellepoix,
and "Mr Comédie" (1980) criticizing Ayatollah Khomeini, who was in exile in France at the time, depicting him as a "torturer".
"Les Brutes" (1980) describes the savage acts done by the Warsaw Pact military forces at the Prague Spring in Czechoslovakia,
"H & D" (1979), with "H & D" standing for "Hôpital & Débiles" ("Asylum & Psychos"), accuses the Soviet Union and its secret services (KGB)
of suppressing dissent by sending political opponents to psychiatric hospitals under fake diagnoses.
Last edited by The ripper on Tue 8 Mar - 13:35; edited 1 time in total
Discography:
1979...Trust - France, UK, USA, Netherlands, Japan
1980...Répression - France, Germany
1980...Repression - (English version of Répression) UK, USA, Netherlands, Japan, Canada
1981...Marche ou crève - France, Germany, Italy (with Nicko McBrain on drums)
1982...Savage (English version of Marche ou crève) - UK, USA, Spain, Netherlands, Portugal, Japan - (with Nicko McBrain on drums)
1983...Trust IV - France, Germany - (with Clive Burr on drums)
1984...Man's Trap (English version of Trust IV) - UK, USA, Japan, Netherlands - (with Clive Burr on drums)
1984...Rock 'n' Roll - France, Canada
1988...En attendant... (EP) - France, UK, USA
1993...The Back Sides (EP) - France
1996...Europe et haines - France
2000...Ni dieu ni maître - France
2008...13 à table - France
Live albums:
1988...Live: Paris By Night (recorded during the Monsters of Rock) - France, USA
1992...Répression dans l'hexagone (Live) (Répression dans l'Hexagone 1980 tour) - France
1997...A Live Tour 97 (Insurrection dans l'Hexagone tour) - France
2000...Still A-live (German edition of A Live Tour 97, contains a bonus 6-track EP) - Germany
2006...Soulagez-vous dans les urnes ! (2006 tour, contains 3 new studio tracks) - France
2009...A L'olympia (2008 tour, Rockpalast 1982 gig added in the limited CD + DVD edition) - France


Le bassiste (Vivi) porte un maillot d'AC / DC, "tournée 1979" où l'on voit dans son dos inscrit
"world tour" sous l'image du dessin de la pochette "highway to hell" à 17 mn 20 s.




with Nicko Mc Brain on drums

---
Permissions in this forum:
You
cannot
reply to topics in this forum