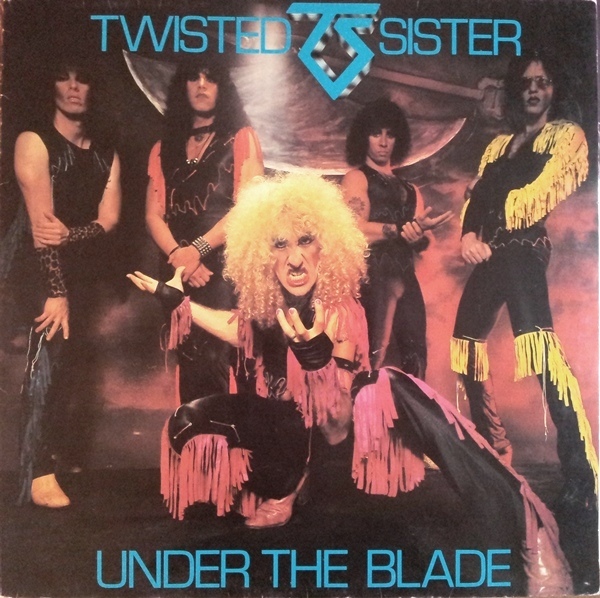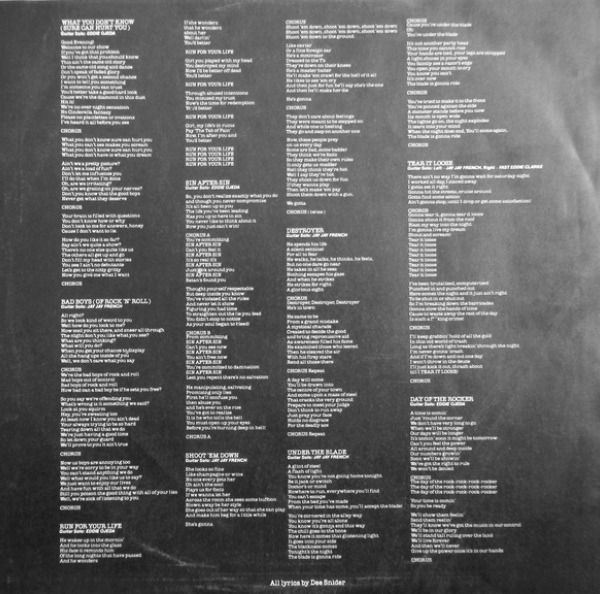 Released 18 september 1982
Under The Blade was originally released in the U.K. by a small label called Secret Records.  
At the time, Twisted Sister could not get a record deal in the States despite being an already legendary live act in the tri-state area.  
Anyway, Secret Records went belly up shortly thereafter, and Twisted Sister did (thankfully) wind up on a major label, Atlantic Records.  
Two years and two records later, Twisted Sister were a household name.  
Riding the wave, Atlantic released a re-mixed version of Under The Blade in 1985.
Under The Blade opens with the rousing What You Don't Know (Sure Can Hurt You); a potent dose of Dee and crew.  
Bad Boys (Of Rock 'N' Roll), an energetic, old-fashioned crowd pleaser, comes next.  
Run For Your Life and Sin After Sin follow; a pair of solid but unremarkable metal cuts.  
Side one closes with Under The Blade's unquestionable highlight Shoot 'Em Down.  
Tight and lethal, Shoot 'Em Down epitomizes Twisted Sister's insatiable hunger in the early eighties ("Shoot them down with a f*cking gun!").  
Hell yeah!  
Side two opens with a trio of nasty cuts in Destroyer, Under The Blade (easily the best song on side two), and Tear It Loose.  
The 1985 edition's "bonus" track I'll Never Grow Up, Now! is an old chestnut from 1979 that feels out-of-place on this album.  
Under The Blade closes rather weakly with the ordinary Day Of The Rocker.  
Overall, an impressive (studio) debut from those good ol' S.M.F.s, Twisted Sister.


Similar topics
---
Permissions in this forum:
You
can
reply to topics in this forum