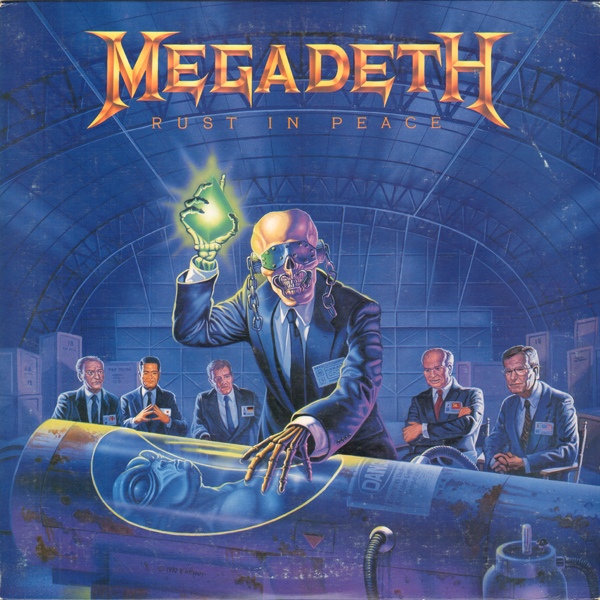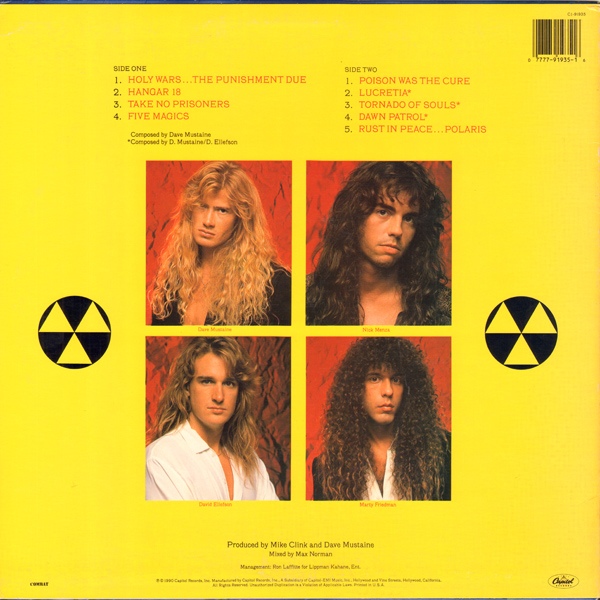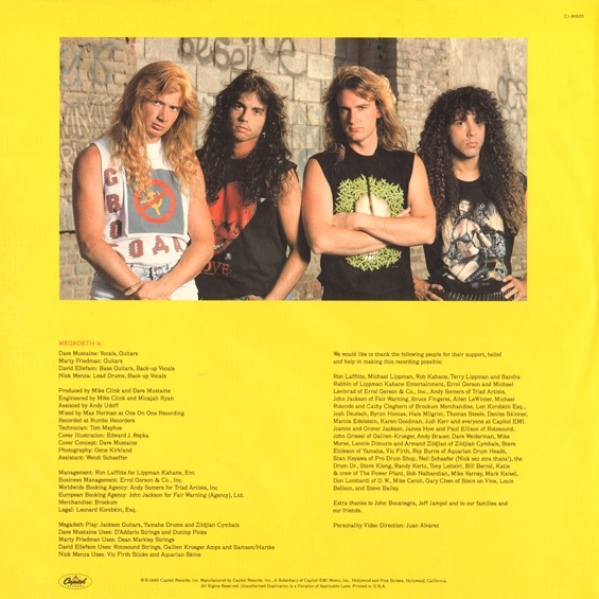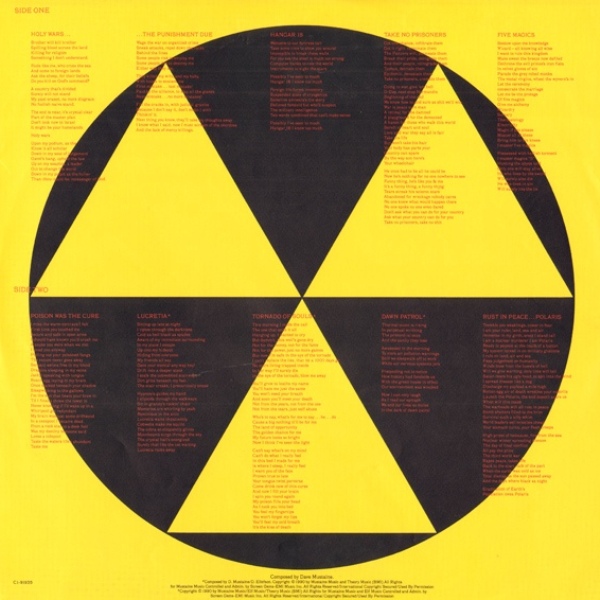 Released 24 september 1990
While there were flashes of brilliance on the first three Megadeth albums, it wasn't until the band's fourth album,
Rust In Peace, that Dave Mustaine and Megadeth realized their full potential.  
There are few, if any, thrash records that can rival Rust In Peace.
Rust In Peace is not a jukebox type album.  
That is to say, there aren't really any "singles" to speak of on Rust In Peace.  
That is because almost all of the songs are unconventional in structure.  
In fact, many of the songs lack a true chorus.  
That is not to say there aren't any catchy vocal or guitar parts on Rust In Peace.  
On the contrary, there are many.  
It's just that these catchy parts aren't repeated ad nauseam.  
Often a catchy hook will come and go, never to be repeated again!  
This is an odd approach to songwriting, but it makes for greater enjoyment on repeated album listens.  
This "progressive" nature is one of the qualities that makes Rust In Peace a classic.  
The album flows in a linear fashion — it should be listened to from start to finish.
Of Rust In Peace, Dave Mustaine said: "I had no idea that it would be a success or I would have paid more attention as we went along."  
Adding Marty Friedman (a Jerry Seinfeld look-alike) on guitar, and Nick Menza on drums gave Megadeth their first stable lineup ever.  
The band channeled their energy, both positive and negative, into a cohesive work of art that still holds up today in terms of technical chops,
lyrics, aggression, intelligence, and flow.  
There is only one thing I would change about Rust In Peace.  
I would drop the silly filler track Dawn Patrol.
At the end of the day we are left to reflect back on a time when tight jeans, sneakers, long hair, wristbands, Jackson guitars,
sick riffs, and shredding solos ruled the metal landscape.  
I hold in my hand a CD that is a relic from the Golden Age… a time capsule to Cold War paranoia.  
I look upon that classic band logo stretched across the album cover, and the blue and yellow color scheme —
a call for retreat to the fallout shelter before the warheads touch home.  
I look upon Vic Rattlehead flashing that apocalyptic grin, and Gorbachev's birthmark —
a shining beacon from his forehead — a reminder of an era gone by.  Oh, where have you gone, 1990?


Similar topics
---
Permissions in this forum:
You
can
reply to topics in this forum