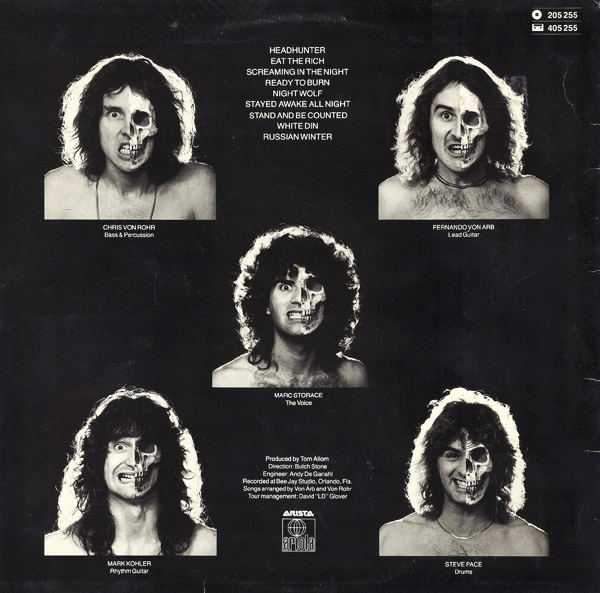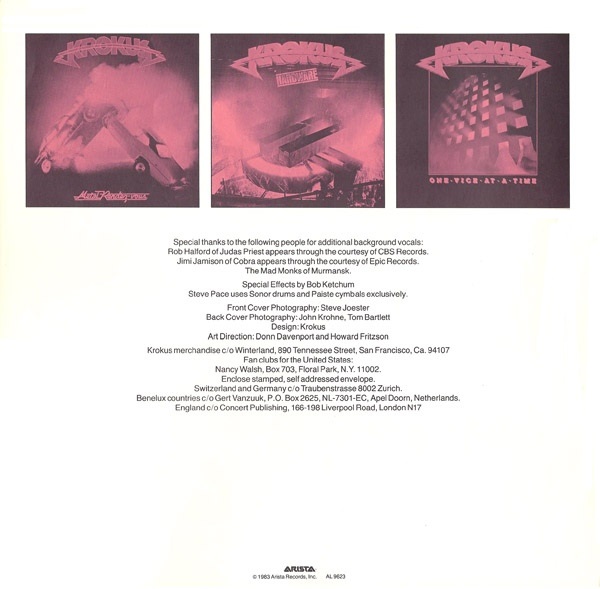 Released 25 april 1983
Quite possibly Krokus' most famous album, Headhunter actually climbed all the way to platinum sales in the United States.  
Krokus was never considered as a very original band, as many a critic will be quick to tell you.  
That has always been the knock on this Swiss act; that they jumped on bandwagons.  
They started out as a progressive rock band in the '70s.  
Next, they adopted a AC/DC-esque sound that reached its apex with 1982's One Vice At A Time
(essentially a lost AC/DC album that I really love).  
But with Headhunter, Krokus loosened their grip on AC/DC's ball bag a bit, showing a little more originality.  
Or at least, they let a few other influences in.  
I sense a little Accept influence myself.  
But it really doesn't matter does it?  
Question is, does Headhunter rock?  
Yeah it does, broseph.  
Yeah it does.
Headhunter opens up loud n' proud with the bitchin' title track.  
Ain't no AC/DC rip-off on this one!  
The second cut is Eat The Rich, another track that kicks up a filthy cloud of dirt.  
Sliding into the third slot is the album's best number Screaming In The Night.  
Who knew Krokus had something this crafty in their poop sack?  
This slow-burning, quasi-power ballad might just be the highlight of Krokus' entire catalog.  
A real gem!  
From this point, Headhunter maintains a decent head of steam, even if a few tracks come off as a bit by-the-numbers.  
Stayed Awake All Night was this album's obligatory cover (from B.T.O.).  
Krokus did too many covers in the '80s, IMHO.  
The album closes with a really fine deep cut called Russian Winter.  
Again, one can't help but think of Accept on this kick-ass track.


Similar topics
---
Permissions in this forum:
You
can
reply to topics in this forum