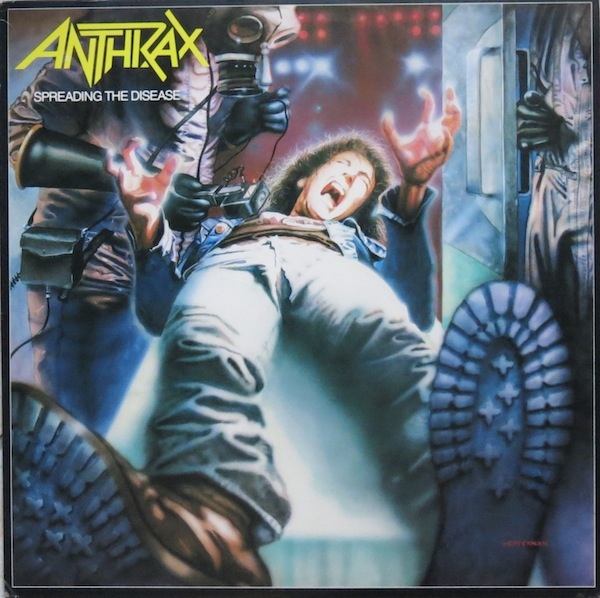 Released 30 october 1985
With their "classic" lineup now in place, Anthrax unleashed Spreading The Disease in 1985.  
Though it took me a while to warm up to, I now consider Spreading The Disease to be a great metal album.  
The first thing one may notice about Spreading The Disease is that, on average, it is not a particularly fast album.  
Compared to Anthrax's debut Fistful Of Metal, as well as many thrash albums of the day,
this album is a little more methodical in its approach.  
This allows the listener to really soak in the riffs and absorb the songs.  
The drumming of Charlie Benante (pretty much the quintessential thrash drummer)
and the spirited vocals of Joey Belladonna highlight the album.  
Belladonna added a very unique element to Anthrax.  
He was an actual singer, one of the old school heavy metal style.  
He was given quite a task, to try to sing over thrash music, but he did a fine job.  
Without Belladonna, songs like Stand Or Fall and Medusa may not have reached their full potential.  
At times, he brings an almost power metal feel to Anthrax.  
Mixed in with their obvious thrash, speed, punk, and NWOBHM leanings,
this gave Anthrax a sound that was all their own.  
Faves include the aforementioned pair; Stand Or Fall and Medusa,
as well as Armed And Dangerous and the album's lone OTT speed machine, Gung-Ho.  
Complaints?  Well, I'm not in love with the drum sound they came up with in the studio,
and the lead riff of album opener A.I.R. is kind of a stinker.  Minor stuff, though.  
Spreading The Disease is a winner.
Last edited by The ripper on Thu 8 Oct - 16:54; edited 1 time in total

---
Permissions in this forum:
You
can
reply to topics in this forum