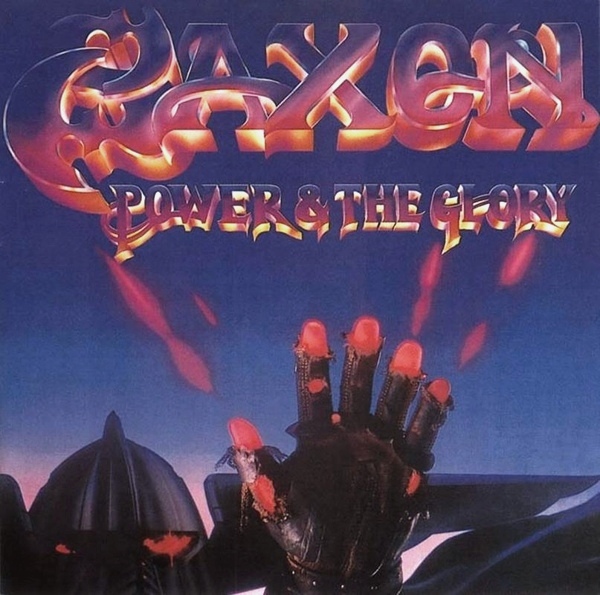 Released 21 march 1983
The well-oiled metal machine that was Saxon continued to pound out album after album of solid material in the early eighties.  
Power & The Glory, the band's fifth studio album, saw the addition of an excellent new drummer to the Saxon ranks (Nigel Glockler),
as well as a much-needed boost in the production department.  
The album opens with what may just be the best Saxon song of them all, Power And The Glory.  
The song's refrain; "To the power and the glory, raise your glasses high",
gives me that same goose-bumpy feeling that I get when I listen to Saxon's "classic" Denim And Leather.  
Just an awesome heavy metal song!  
Although the chorus to Power And The Glory is quite anthemic
(inspiring me to want to charge deliriously into battle after pounding a few goblets of ale),
the lyrics to the song are actually anti-war, making the song somewhat duplicitous in nature
(much like Springsteen's oft-misunderstood Born in The U.S.A.).
My favorite thing about Saxon has always been Biff Byford's earnest, straightforward lyrics.  
The lyrics to each of his songs often tell a simple story.  
This is very much the case on the entire Power & The Glory album.  
As mentioned, the title track deals with war, specifically the plight of the disposable soldier
(Biff was influenced by the Falkland conflict at the time).
Watching The Sky ponders the existence of extraterrestrial life (influenced by the movie E.T., so says Biff),
and The Eagle Has Landed is about the first moon landing.  
These are just a few examples of Biff's grounded, everyman musings.  
On the whole, Power & The Glory stands up very well with Saxon's other early eighties albums.  
Since Power & The Glory only has one truly transcendent track (the title track),
I place it behind Denim And Leather (1981), which had a handful of such majestic numbers.  
However, I rank Power & The Glory higher than Strong Arm Of The Law (1980),
and probably equal to Saxon's seminal NWOBHM platter Wheels Of Steel (1980).  
(I am happy to bid adieu to the abrasive guitar tone used on those two 1980 LPs!)  
As for the album cover?  
Big ol' bag of suck.


Similar topics
---
Permissions in this forum:
You
cannot
reply to topics in this forum