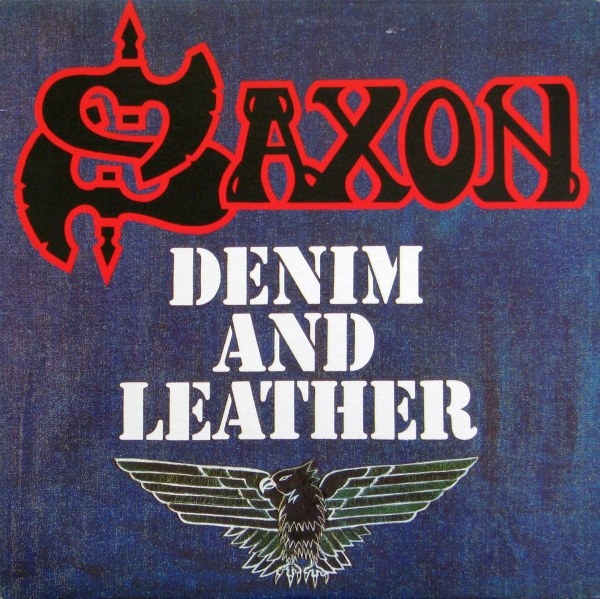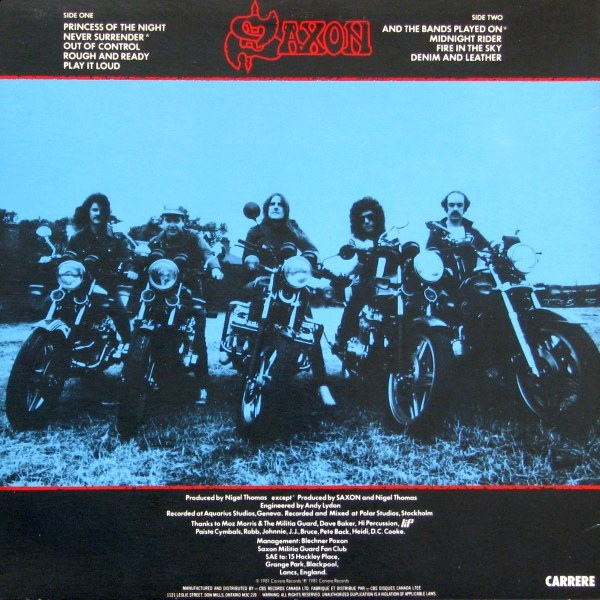 Released 5 october 1981
The thing I really like about ol' Saxon is that they didn't try to show off too much or act as if they were rock gods needing to be worshiped.  
Saxon also didn't try to pander to the masses (like '80s Priest for example), which would have been an insult to intelligent fans.  
Saxon seemed to appreciate the heavy metal fans as their equal.  
They were a bunch of heavy metal guys lucky enough to be able to play their songs for their friends.  
That's just the impression I get from their music, whether I am off-base or not I don't know.  
Denim And Leather is prime Saxon.  
Lead singer Biff tells a simple story with each tune.  
Denim And Leather is stacked with awesome tunage.  
No greater NWOBHM anthem exists than the song Denim And Leather.  
The lyrics to Denim And Leather make reference to the excitement of the burgeoning NWOBHM.  
Saxon's singer Biff Byford knew how to spin a simple but meaningful lyric.  
His lyrics had a way of connecting with the listener through kinship and loyalty.  
Superb cuts include Princess Of The Night (about a steam train), And The Bands Played On (about a concert),
and Midnight Rider (about Saxon's first U.S. tour).
Whether it be a song about a steam train or a song about touring the good ol' U.S.A.,
there is a certain simple sincerity to Saxon that personifies the spirit of heavy metal.  
The title track, Denim And Leather, is a great example of Saxon's spirit.  
The song is a dedication to the NWOBHM fans and shows Saxon's appreciation and sense of brotherhood.  
It is a proud, honest anthem, and one of the best ever!  
I love the lyrics!  ("Where were you in '79 when the dam began to burst? … Denim and leather!  Brought us all together…")  
If you like your heavy metal simple, loud, and honest, Denim And Leather baby!
Last edited by The ripper on Sun 13 Mar - 20:32; edited 1 time in total


Similar topics
---
Permissions in this forum:
You
cannot
reply to topics in this forum