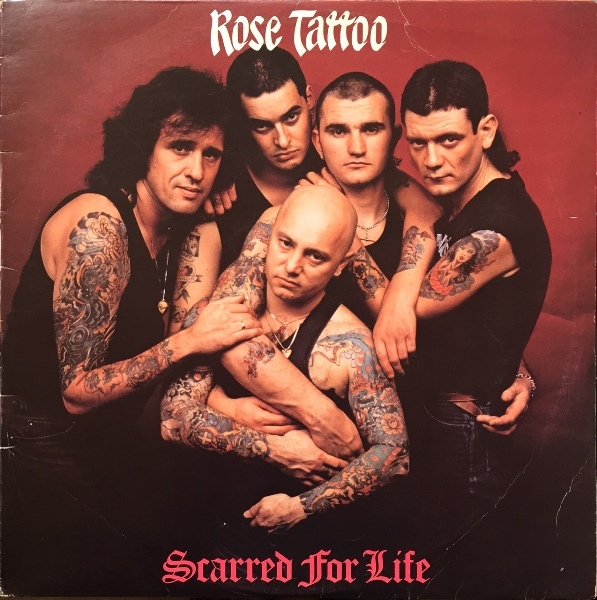 Released 15 november 1982
Rose Tattoo appear on the cover of Scarred For Life in a rather peculiar group embrace.  
I'll just let you soak in that pic for a moment. (Feel free to make your own jokes.) Finished? Okay, carrying on…  
You'll also notice that the boys are proudly showing off their signature ink. And there's lots of it.  
Ya know… once upon a time, tattoos were only for sailors, bikers, and prisoners.  
Somewhere along the way, rockers started getting all tatted up. Then athletes.  
Now we've got friggin' baristas with full sleeves and bank tellers with neck tattoos. Everyone's got 'em.  
I'm sorry to say this guys, but tattoos are less about rebellion and more about conformity these days.  
Woman, it seems, are getting covered in tats almost as much as guys.  
Seems like every girl at my gym who is under the age of thirty is inked all over.  
I'm not sure what those chest and neck tattoos are going to look like in thirty years when that neck looks like a turkey wattle
and those tits look like two egg yokes hanging from a nail.  But hey, it's all good!
As for the Scarred For Life album…its not as good as its predecessor Assault & Battery (1981),
but it is another quality album by Rose Tattoo. The boys were at their best when they delivered upbeat mini-anthems
about scratching and clawing their way to the top.  
This particular LP has three such tracks in Scarred For Life, We Can't Be Beaten, and Branded.


Similar topics
---
Permissions in this forum:
You
can
reply to topics in this forum