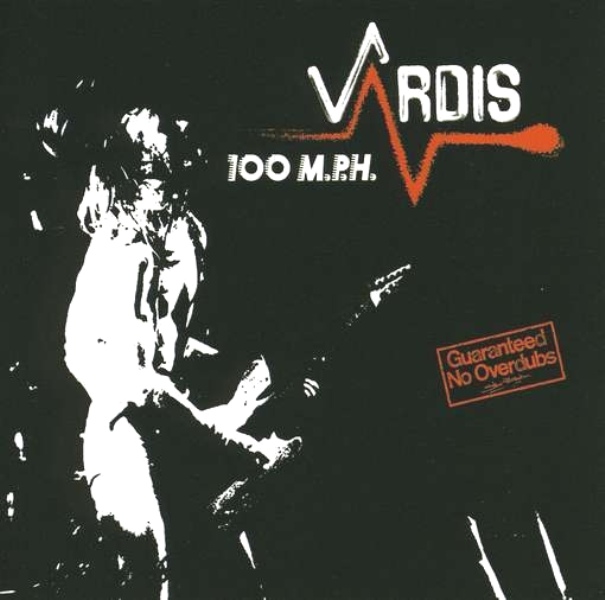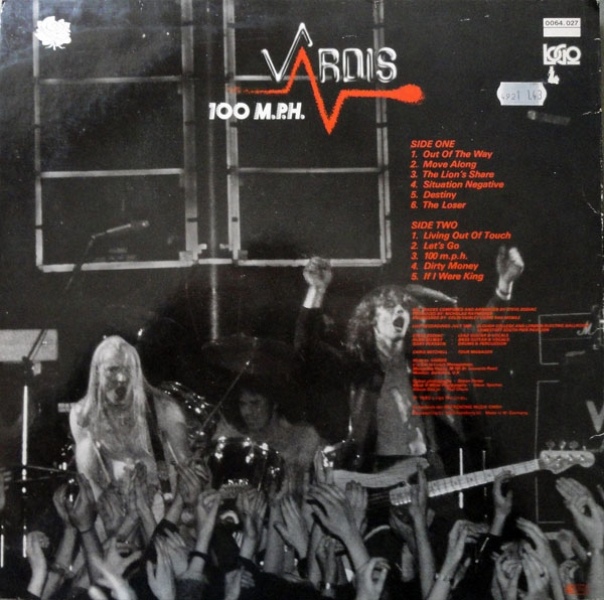 I have absolutely no idea what possessed me to buy 100 M.P.H. by Vardis but it now sounds as dated as
its old linear measurement would suggest. To make matters worse the album has been compiled from live performances –
and live albums are just something I don't do! I think it must have a had something to do with the
New Wave Of British Heavy Metal as a whole genre. A few years earlier, when punk was just beginning to gain recognition,
I was out there trying to hoover up anything by anybody who vaguely fell into the punk category.
I presume I was doing the same thing here.
When a new musical trend suddenly takes off I would imagine it's best to be in the vanguard rather than a coat-tail grabber.
The New Wave Of British Heavy Metal was a short-lived affair and was already on the wane when 100 M.P.H. was released
and so Vardis found themselves reliant on their ability rather than the furore that accompanies any new fad.
With that in mind, it's understandable why Vardis chose to release a live album as their debut –
because the high octane drive and relentless riffs are far more effective than the studio cuts I've heard.
A comparison to Motorhead bears some examination. Vardis were a three-piece fronted
by blonde-haired Steve Zodiac looking not unlike Johnny Winter.
They played loud and fast rock 'n' roll that battered their audience into submission –
reducing them to malleable putty and transforming them into devoted acolytes.
They tapped into something primal that made everything they ever released sound exactly the same but,
at the same time, spoke to something so basic it was impossible to ignore.
The difference was that, rather than take their influences from the prehistoric rock bands of the past like Sabbath and Purple,
Vardis chose to beef up and accelerate the glam rock sounds of the seventies.
The result can literally be breathtaking.
"Out Of The Way", "Let's Go", "Situation Negative", "The Loser", "If I Were King" and "Move Along" fairly rip from the speakers and,
even if the likes of "Dirty Money" contain all the stupid ostentatious superfluities and prolonged solos of a live performance,
it still manages to capture a brief moment in time when the band held a small audience spellbound on the end of a guitar chord.
Vardis did stick around for a little time but I didn't stick with them.
It's ironic that for someone who doesn't have much time for live albums that 100 M.P.H. is the only album by the band I own –
especially seeing as it's not half bad.
I think, at the time, money was tight and I just couldn't afford the luxury of spreading myself
so thin across so many different artists. Pity really because, whereas Vardis only created a minor starburst, it did burn very brightly.

---
Permissions in this forum:
You
can
reply to topics in this forum