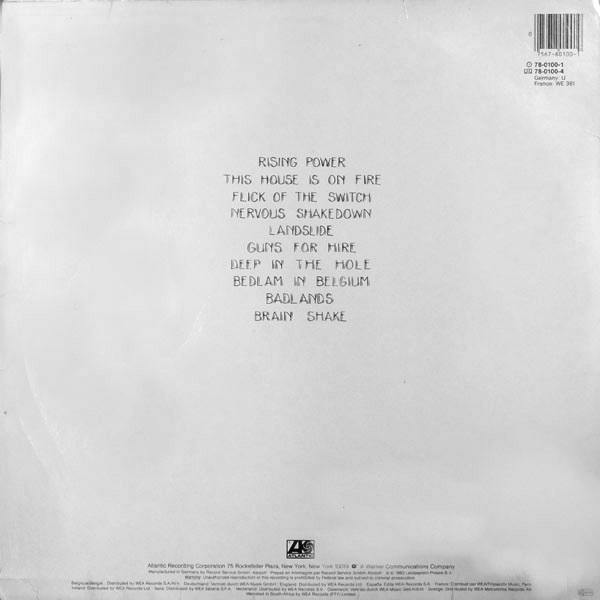 De retour après une tournée qui s'est déroulé sur plus d'un an (septembre 81 à
décembre 82) et 4 mois de repos, il est temps de revenir en studio.
Le groupe retourne aux Bahamas aux studios Compass Point dès avril 1983
où ils avaient déjà enregistrer l'album "back in black" en 1980.
Cette fois-ci sans producteur, assurant faire ce rôle eux-mêmes.
Suite au semi-échec de "for those about to rock", "mutt" lange est dégagé (n'ayant pas
peur des mots).
Déçus et pressés d'enregistrer, Angus et Malcolm veulent tout gérer eux-mêmes.
Graves erreurs car le producteur d'un album est neutre et rassemble les idées des uns
et des autres.
Aider de loin par "the gorgeous glaswegian" comprenez Georges Young et "the dutch
damager" comprenez Harry Vanda comme consultants avec comme ingénieur du son
Tony Platt "have ears will travel platt", leurs contributions à du être bien mince vu le
résultat définitif.
Novice derrière la console les Young bricolent mais ne captent pas l'intensité de leur
puissance de son avec le recul nécessaire.
Producteur cela ne s'improvise pas, le résultat médiocre des ventes le confirmera
rapidement.
"Voilà ce qui arrive lorsque l'on veut s'autoproduire".
..."rising power"
Tempo avec la régularité des montres Suisse sans envolé flagrante.
Le solo ne se distingue pas du reste des autres intervenants.
Ce titre aurait eu sa place sans problème dans l'album de KISS "lick it up"
sortie en septembre 83.
..."this house is on fire"      
Ambiance rythmique à la "hells bells", effectivement la "maison AC / DC" est
en feu sans faire de flammes avec un final auto-stopper.
..."flick of the switch"    
Les cris suraigus de Johnson collent mal au rock swinguant des frères Young.
Sa voix manque de souplesse et d'originalité.
..."nervous shakedown"  
Boite à rythme en guise de batterie ?  
ENCORE un titre sans âme...
..."landslide"  
ENFIN une chanson rapide qui balaie les horreurs précédentes pour un temps.
Calqué sur "beating around the bush", elle sauve l'honneur de la "face 1".
(désolé, je retranscrits comme si j'avais le vinyle en main)
..."guns for hire"
Morceau qui aurait été mieux à sa place en ouverture d'album "face 1".
Vu en clip en 1983 en fin d'émission de Guy Lux "cadence 3", Angus bluffant...
..."deep in the hole"
Riff principal des plus simpliste, batterie à contretemps (à contre-coeur ?)
..."bedlam in belgium"
Un regain d'énergie trompeur en fin de parcours.
Toujours ces chœurs assourdissants.
..."badlands"
Dans le même style, vaut mieux écouter George Thorogood et son tube pour biker
"bad to the bones", au moins c'est jouer à la bonne vitesse.
..."brain shake"
Ultime bon titre de cet album dans la lignée de "landslide", on ne change pas un titre
percutant et rentre-dedans.
Phil Rudd suite aux tensions avec le groupe depuis des mois et en particulier avec
Malcolm sera mis à la porte pendant les sessions d'enregistrement en juin 83.
Sans producteur et un batteur en déclin non motivé (encore faut-il qu'il ai joué toutes ses
parties de batterie lui-même, car un batteur studio fut utilisé après son départ pour
achever l'album).
Après des auditions en Angleterre, c'est Simon Wright un jeune Anglais de 20 ans qui
décroche la place.
Sortie Européenne de l'album le 22 août 1983.
Suite aux ventes décevantes de "flick of the switch", AC / DC fera juste une tournée éclair
de 3 mois aux USA d'octobre à décembre 83 pour revenir en Europe en Août 84 pour une
dizaine de concerts dans le cadre des "monsters of rock".
Last edited by METAL GOD on Wed 28 Jan - 17:55; edited 1 time in total


Similar topics
---
Permissions in this forum:
You
can
reply to topics in this forum