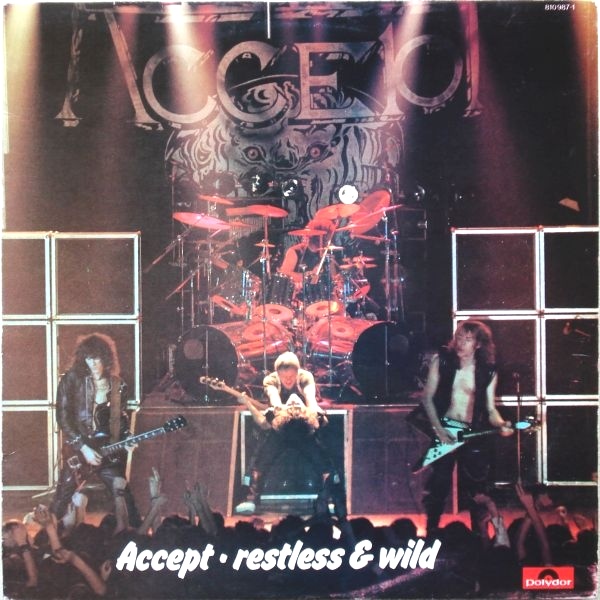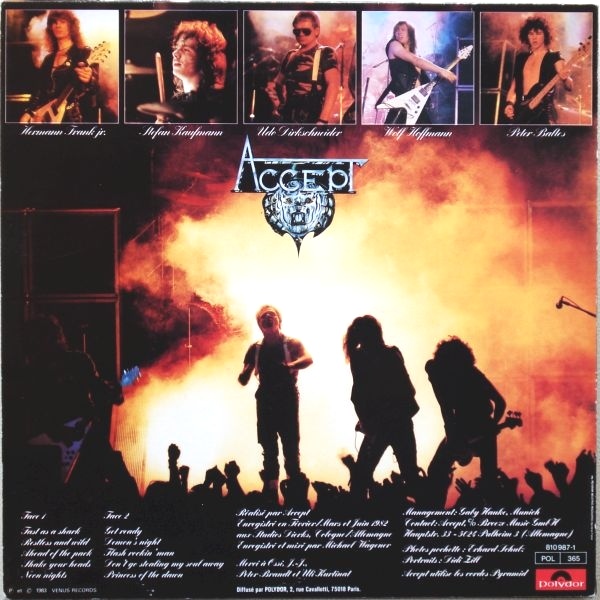 Sortie le 2 octobre 1982
...Fast as shark :
L'album démarre sur une ritournelle (j'en resterais là)...pour voir l'afflut de guitares tourbillonantes
arrivés en tsunami.
Si accepte avait fait 10 chansons identiques à celles-ci sur cette album, on aurait pu lui attribuer
la paternité du "speed metal"...dommage pour lui (et pour nous aussi, auditeurs critiques).
Petit rappel :
Judas Priest l'avait déjà précéder sur son album "stained class" en 1978 avec le morceau "exciter"
à la double grosse caisse...
...Restless and wild :
Suite logique qui malgré un début prometteur se ramollit vers la fin.
Face A du 45 tours espagnol avec en face B "fast as shark"...bizarre.
...Ahead of the pack :
Accept affine ses riffs (crocs) sur ce morceau.
(début de solo plus long sur la version demo et des choeurs en plus)
...Shake your heads :
Bon morceau très influencé Judas Priest.
...Neon nights :
L'intrus de ce disque.
Soyons honnête...j'aime pas cette chanson...sauf...
le long solo lancinnant cosmique à la Ritchie Blackmore (maitre dans le genre).
...Get ready :
A l'origine le titre "flaming guitar fire" et des paroles différentes mais musique identique.
Superbe chanson entrainante qui ne demanderait que d'avoir ses refrains repris en choeurs lors  
de prestations live.
...Demon's night :
Lentement mais surement, ambiance malsaine.
...Flash rockin' man :
La 1ère version demo de l'album est beaucoup plus intéressante avec plus de solos.
Dommage (une fois de plus), qu'ils aient garder une version plus soft, alégée, édulcorée...
...Don't go stealin' my soul away :
Intro guitares à la AC / DC, mais cassure de rythmes dans le parcours pour finir en solo
mélodique, fer de lance de futurs prometteurs.
...Princess of the dawn :
Titre qui sonne le glas du disque sous un rythme répétitif qui sera un hymne à chaque concert
du groupe pour s'étirer à n'en plus finir.
La version demo est dominé par un solo de guitare fuzz et un solo de batterie inédit rajouté dessus
celui du rythme d'origine pour stopper net à plus de 6 mn.
Epilogue :
Dans ce disque, Accept se cherche, expérimente et délaisse son style hard rock pour s'orienter vers le heavy metal
(NWOBHM) qui à l'époque était plus populaire et novateur avec des groupes comme Maiden ou Priest...
Ses incursions en riffs méchants et posés seront mieux mis en valeur sur l'album suivant "balls to the wall".
Last edited by The ripper on Thu 9 Jul - 14:00; edited 3 times in total


Similar topics
---
Permissions in this forum:
You
can
reply to topics in this forum